Hey, Legacy Builders! Welcome back to my blog. I'm Jenn McNeely with JWM Designs and marketing and in this post, I am going to go step-by-step through my 10-Step Business Plan Workbook. I put this workbook together because I know that there are a lot of people out there who decided at the start of this new year that they are ready to take their businesses to the next level. For some of you, transitioning from a full-time employee to a full-time entrepreneur is new territory for you. You have a lot of questions and concerns about getting started but you know in your heart that you're ready to step into the world of entrepreneurship. For others of you reading this, you might not want to jump-in as a full-time entrepreneur, but you still need the tools to help you establish and grow your business. As an entrepreneur, as a business owner, and as an attorney, I want individuals who are serious about starting a business to have the resources to create a clear plan for success.
So many things can pop up in the process of starting your business or even while you're in the middle of running your business. You may not be equipped to handle those things because you never took the time to create a plan to address the unexpected and plan for it. I mean, it's one thing to come up with a name or even a product or service that you want your business to provide. But it's a completely different ballgame when you have to answer questions about how you plan to go about making sure that your business is actually a profitable business. How will you know if you need to pivot in your business if you haven't planned for the future? The simple answer is you won't know that if you don't have a plan. But never fear, JWM Designs has your back. To help you get started on the right path, I put together this 10-Step Business Plan Workbook so that you can walk through the steps and create a real plan. The workbook is completely free. Click the link and it will be sent directly to your email inbox.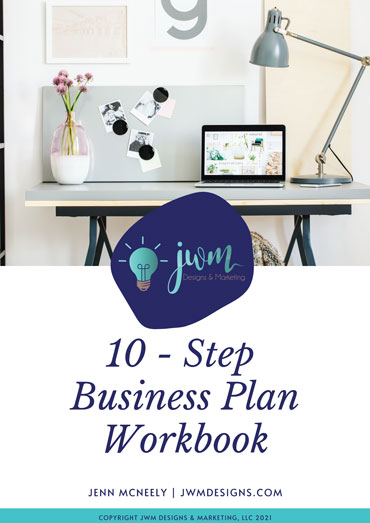 But before you get started on your plan, I want to walk through some of the important key aspects and highlights of the workbook. I don't want you to start completing it and think, "oh, my God, this is overwhelming. I can't do it." I know that you can do it and I want you to be successful. I promise you, as you walk through the workbook, each part of it builds on the other. And by completing the plan, it's going to help you take your business to the next level. The workbook may cause you to think of things that you may not have thought about that are important aspects of growing a business. It is going to help you think about those things, plan those things out, and ultimately you'll see greater success at the end of the year. I for one cannot wait to hear what you've done with the business plan.  And I'd love to hear your thoughts about that in the comments below.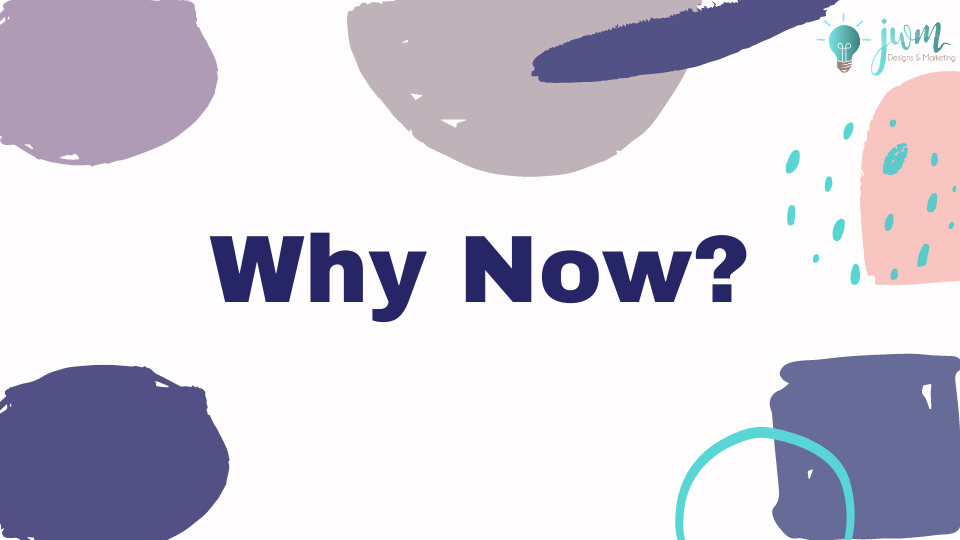 Why now? I want you to think back to a time where you set out to do something, maybe it was to pick a major in college, or maybe it was to plan a wedding or some sort of event. At the start, you may have had an idea about how you wanted things to go, but once you sat down and got in the middle of it, you realized for one reason or another that you needed to change course. What you thought you wanted initially wasn't exactly what you were thinking or what you envisioned when I first started out. I know that when I was in college, I changed my major after I took a class and realized that what I was registered for was not what I wanted to do. I had to take a different path. Similarly, you may find that happens often in business. All too often people start out in their businesses thinking they have this idea of what they want to do and providing this one service or product. But then they get in the middle of running the business, and they realize there are other things that they would rather do or sell and are then forced to pivot. For some business owners, it's pretty easy to pivot what the company sells, but for others, it takes a lot more time and a lot more money, a lot more resources. If they are unable to pivot, they may give up on the business entirely. That is the reason why having a plan on the front end of starting your business and being able to see in black and white where your business is and where you want it to go, is so helpful to you as you grow your business. The plan allows you to forecast and see the myriad of things that you can achieve in your business if you take the time and do the hard work to plan for your future. I hope that as you go through these steps, you're going to be able to see why having a business plan, understanding it, and actually using it is going to be so helpful for you in your business. Now, with that out of the way, let's get right on into it.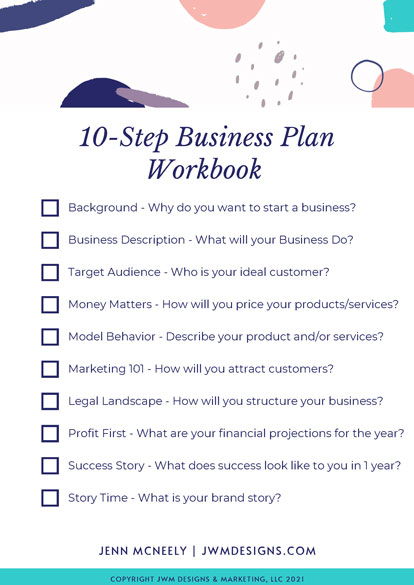 The business plan, it's broken into 10 distinct parts and you can do them all together in one day or you can take some time to really think about it. They are the background, business description, target audience, money matters, model behavior, marketing 101, legal landscape, profit first, storytime, and success story. I encourage you to take time to complete it because there are some topics that you may not have considered before and you need time to process these questions. Even though I do provide space for you to be able to work through the plan on the printout, I suggest using a notebook, journal, or notepad so that you can expand your responses. The workbook only has so much space for you to fill in and I didn't want to create more space that would bombard you with way too much information or way too much paper. I want you to easily print the workbook out and refer to it. As you go through the workbook, you can see the spots where you can answer questions within the workbook. But again, feel free to use a notepad or notebook to supplement the limited space available so that you can include complete answers.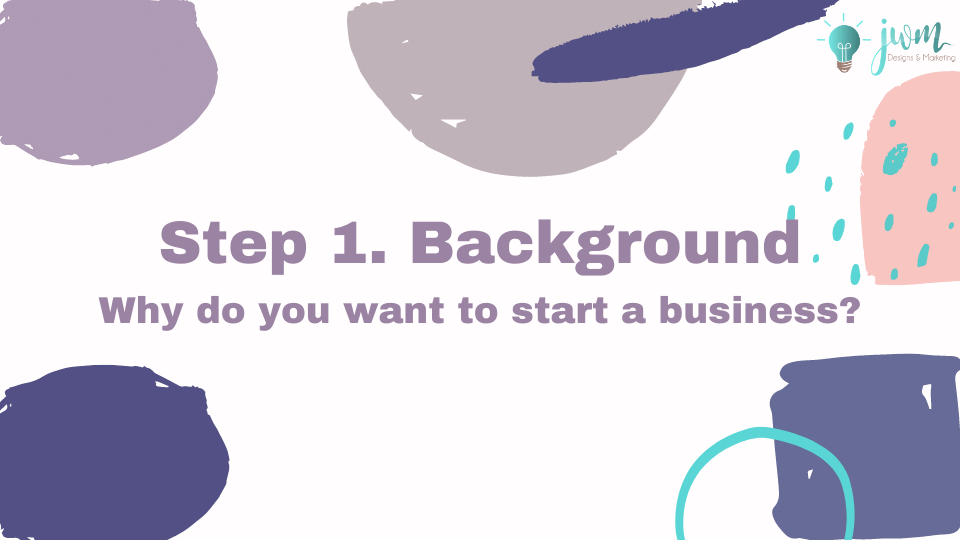 Step 1. Background. The first and most important part of the plan is the background of the business. You need to describe the who, what, when, where, why. Beyond the business name, you should create a brief bio about yourself. (hint: you can use this in later marketing). Are you an employee transitioning to full-time entrepreneurship, or are you someone who's had a business and you're a serial entrepreneur? Is this your first time working in this industry or do you have expertise in this area? Will you be learning as you're growing your business? What are some of your skill sets? These are all things that you can include in your bio. Also, your responses here can help you decide the type of people you may want to partner with in the future.
After tackling your bio, you need to ask yourself why are you starting your business? That's a really important question. The reasons for starting a business can differ greatly from one entrepreneur to another. Because there are a lot of different motivations, understanding yours will determine how you want your business to go. Did you start your business to eventually sell it off, or is it an outlet for you to be able to express your creative side? What was the reason you decided to start this business as opposed to something else? Your answers will determine certain goals that you set for yourself in your business. This step asks you to answer other questions such as, what are you looking to achieve in your business. Is the reason you started your business because you are looking to achieve financial freedom? Are you looking to achieve some sort of social or community good for a marginalized group? Your answers will also come into play when we talk about your business philosophy, core values, and beliefs. The next thing you've got to think about is what are you willing to invest in your business? What resources do you have at your disposal? What initial investment do you need to get started? And I'm not just talking about money. You may have the resources of your expertise, of your time, of your ability to be able to bring groups of people together, networking, or natural charisma. There are all things that you need to inventory as potential assets.
In the last section, I ask you to fill in the blanks. I help ______ do ______ blank. This is a very vital step because your responses are going to come into play in the next step. Your "I Help" statement is something that you're going to constantly be asked by potential customers and clients. You need to know who are you helping, why are you helping them, how are you helping them, and what are you helping them do to achieve it. For example, if you have a residential cleaning service business, you are not just cleaning a house. Rather, you are helping busy people not have to worry about keeping their houses clean while maintaining their full-time jobs or watching their kids during virtual school. Ask yourself: Am I providing a product or service that helps alleviate a pain point in my customer's life? What need am I meeting with my product or service? To be successful, you need to be able to clearly articulate those responses to your potential customers.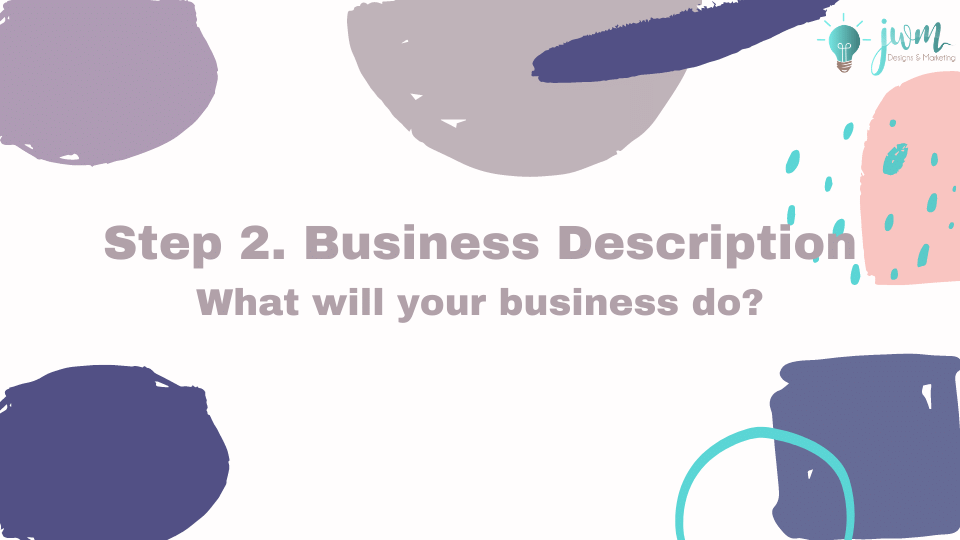 Step 2. Business description. At the very top of the page, you're going to see that I want you to write your two-minute elevator pitch. But before you do that, I would suggest going through the four bullets that are below this section because those are going to help you as you create and craft your two-minute pitch. One of the things I always say is that you might have to start off with a ten-minute pitch and edit that down until you can get it to around two-minutes. The reason I want you to cut your pitch down to two minutes is that people sometimes lose interest or can't follow what you're saying if your pitch is too long, convoluted, or too confusing for them to grasp quickly. You want people to immediately know what it is that your product does or what service you provide. You should strive to get all of that information out in two minutes, or less.
When describing your business, the first thing you need to do is to articulate the products or services that you provide. People want to know what do you do and what service you provide from the beginning. Until they know the answer they're not in a position to decide whether they want to do business with you. I always suggest making sure that it's crystal clear early on, what it is that you do and what you don't do. You also want to be clear when describing your business because your target audience may be looking for something very specific. And if they can't immediately recognize what you're offering, they may move on to your competitor. The next thing you want to do is to figure out what pain points your product or service is going to address for your potential customer. Consumers want to know how your product or service will help them. They want to know if it is going to entertain them, help them save time, save money, save energy? Is it going to provide the expertise that they need to achieve whatever goal they may have? You need to be clear as to what it is that your product or service is going to do for someone, whether it's entertainment or it's educational and they need to know what your product does.
The next question to answer is what differentiates you from your competitors in the market? There are several different companies that exist in your industry and most of them are not overly unique. However, you don't need to worry so much about market saturation as you need to focus on whether you can differentiate yourself within your industry. Think about it. You've got McDonald's, Burger King, and In and Out. All of them sell burgers. But there are different things about each of those companies that draw consumers to the time after time. Some people like flame-broiled burgers, some people like the McRib, and some people like In and Outs flavors. For your business, it's really all about you and what you're able to say that distinguishes your product or your services from others. You need to know what differentiates you so that when you're selling yourself to your customers or to potential investors, they know what you are, what you do, and what you don't do. Let them know what differentiates you from your competitors. In the last box, I ask you to describe your operating structure. These are things like your key employees, your core values, your mission statements. These elements are all important when you're describing your business because running a business is not just about the products or the services you offer. It's also about what your business stands for and what it doesn't stand for. You want to make sure that at all times the branding messages you convey give a sense of who you are, what your business stands for, and what your business does not stand for.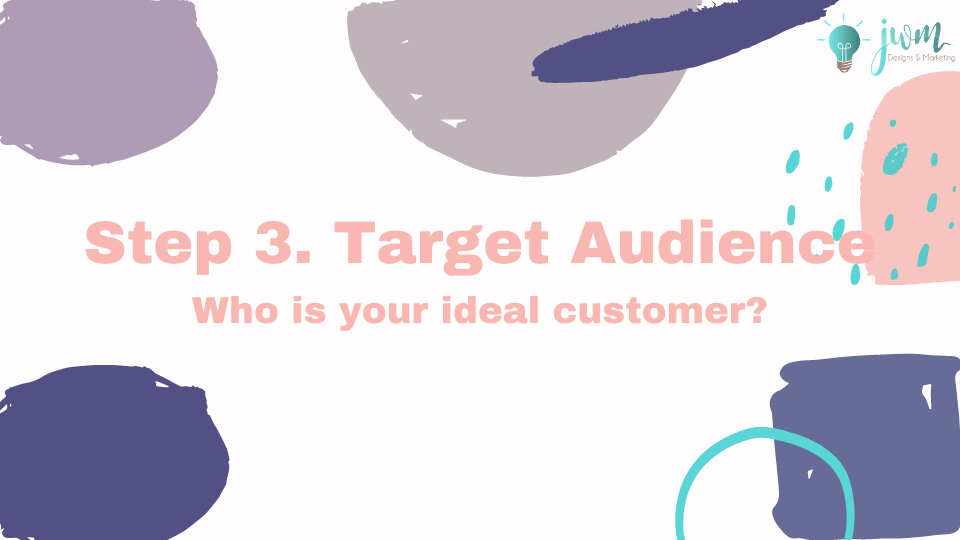 Step 3. Your ideal customer. This is one of the most important aspects of this entire business plan because you need to know your ideal customer. Who is the person that you want to make sure is always serviced by your products or services? These are going to be the folks that are your raving fans. What is it about your product or service that connects with this ideal customer? This step asks you to create your ideal customer's avatar. You can make up a name for them, like "Sally the craft seller" or  "Sally the Housewife." However you want to describe that person, be sure to create a name, age, and other demographics for them. Are they married? Do they have children? Are the younger, older, college-educated? You want to think about all of these different aspects because that's going to help you and inform you in the products and services that you provide and also in the marketing campaigns that you are going to implement. You're going to need to know where these ideal customers are and what they care about. Do they care about quality? Do they care about exclusivity? Do they care about creativity or customization? Who is your ideal customer? You need to know who that is because there's no way you're going to be able to achieve the level of success that you want if you are servicing everyone and not focusing on the ideal customer who is targeting your business.
As you look a little bit closer to the ideal customer bio, one of the things I want you to do is to image the person in your mind and then give a brief customer bio. I want you to talk about what their main motivations are and why they want your product or service. Do they want things that are convenient that will help them achieve a certain goal, or do they like things that are customized, fit specifically for them. You also want to talk about what their goals are and what their pain points are because if you're able to meet the need of a customer on a regular basis, you are going to have a customer for life. You're going to create brand loyalty if you properly target them because they know they can always go to you if they need whatever that service or product is that alleviates whatever pain or discomfort they are experiencing. Another vital thing that you want to know about your ideal customer is what social media platforms they frequent. You need to make sure that you're on the social platform that your ideal customers are likely to be engaged. I know a lot of people are going away from Facebook for different reasons, but Facebook groups are great for building communities. Facebook is one of the best resources out there when you're trying to generate new customers and new clients. Even though you may not like Facebook, and that's fine, if Facebook is where your ideal customer is, you need to have some sort of presence there. You also have things like Instagram, Tik-Tok, or WhatsApp. I'm not a Tik-Tok fan. I'm just not interested in dancing and doing all that. I know there are other things that are done on Tik-Tok and there is great content on that platform, I'm not a tik-tok person. However, I do use Instagram, which is where I get a lot of my customers and clients, as well as Facebook groups. In short, you've got to decide and find out where your ideal customer is and make sure that they are able to find you easily because you're on and active on those platforms.
Lastly, it's always good to know what your customers use as far as their go-to technology. Are they a more desktop or mobile type person? What are they using to connect, an iPhone or Android? These things all matter because for some people they don't care about labels, and so they buy lesser-known brands because they care more about cost over the brand name. Some customers are more interested in quality, but at a lower cost, whereas other customers only want the best, the biggest, the brightest, the most expensive. So you need to make sure you know who your customer is because that's going to inform your decisions when it comes time to advertise and market to them.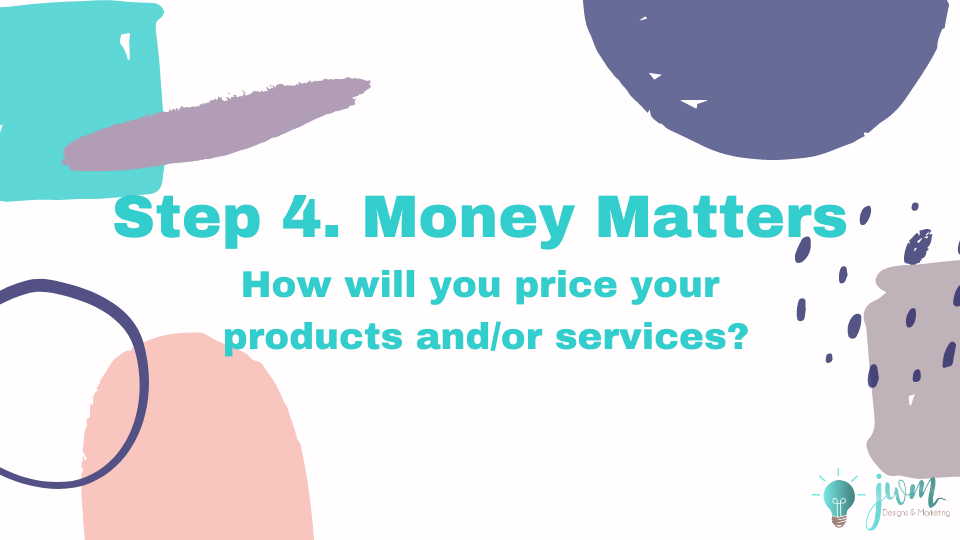 Step 4. Money matters. Step 4 is all about getting your head around the idea of how much it is going to cost you to get started. How much does it cost you to produce your products or services in order to make a profit? What is your profit margin? If you look at the workbook, you'll see that I give you a few formulas for finding a selling price and how to find what's a decent selling price for you. This is only a starting point, but you've got to know how much you need to sell to have the lifestyle that you want. It's very important that you know how much it costs you to actually do whatever it is that you're needing to do to create the product or to provide the service that your business is going to provide. You need to make sure you understand your pricing models. How much you're going to charge? Does your ideal customer see the value you provide reflected in your prices? You have to keep in mind, people are not necessarily going to pay you just because you're a nice person. So you want to make sure that whatever the price you're charging, your ideal customers will feel comfortable paying that price because they know that they're getting the quality of the service that they expect at that price point. The best price for a product or service ranges widely based on different variables. For example, you can go on the Tiffany & Co.'s website and you can find a gold paperclip for $1,500. I wouldn't pay $1,500 for a gold paperclip, but there's some customer out there who is willing to pay that amount. I always suggest making sure that you know who your ideal customer is because that's going to determine how you should price your items. You also want to make sure that you look into what your competitors are doing and you want to make sure that you know how you're going to get paid. Are your products or services one-off purchases or is there a way to generate a recurring relationship, as a subscription service? These are all things that you want to make sure that you've tackled in your head and you've got a plan for dealing with them as you continue to grow your business.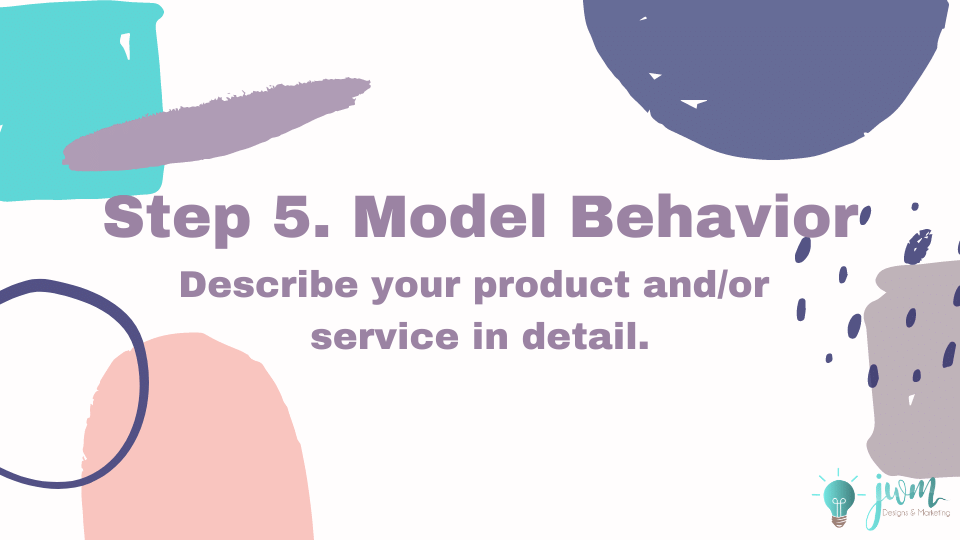 Step 5. Model Behavior. This step is all about going more in-depth about the nature of your products or services and getting into more details. For example, if someone tells me they are starting a new apparel company, my response is what does that mean. Are you selling accessories like hats, gloves, scarves, or are you selling premium items like jeans, khakis, or shirts? Do you sell specialized lines for plus-sized, petite, or tall people? Is your apparel line for mothers, children, men, women, or teenagers? I could go on and on and on. You need to be specific about whatever your product or service is so that you can be laser-focused when providing that quality and the quantity that you need in order to sustain your business. After determining what your main and your secondary products are, the next thing you want to think about are ways that you can up-sell those items. Maybe you can add some customizations to your services or your product, or maybe you can have an exclusive line of your service or product. These are all things that you should consider when you are deciding the products and services that you want to provide. The other thing that you should always think about is how can you make some of these purchases recurring? Again, think about all of the subscription-based services that are more common today than they were even 10-years ago. Subscriptions are the way to go with a lot of things because that's constant money flowing into your business. Think about that gym membership that you don't use very often. I know I've been guilty of paying a membership to a gym that I've never stepped my foot inside. The gym was still getting my money even though I hadn't been there. Think about recurring revenue sources for your business because they can be easy ways for you to generate cash-flow if you think creatively about how you can make your customers recurring customers.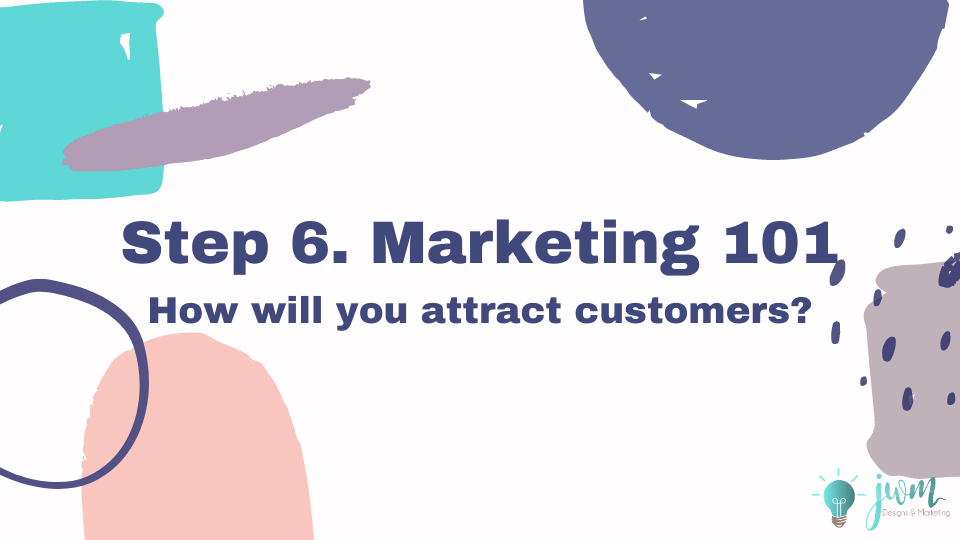 Step 6. Marketing 101. In this step, I want you to really focus on your customer acquisition channels. Here, you need to start developing ways to attract your ideal customer now that you know who they are and where to find them. To be successful, you need to come up with campaigns and strategies that will attract your ideal customer to you. Keywords in your marketing campaigns are very important, as well as, SEO (search engine optimization) for your website, and hashtags for your social media accounts. Developing a plan for attracting customers via different channels is necessary to attract customers and put your product or service in front of them. The other thing you also want to map out is your customer's journey. Describe the journey that your ideal customer will go through in your business. From the moment when they first hear about you to the final sale and then afterward when they leave reviews, what does their customer journey look like? As a business owner, you want to make sure that you have a journey in mind for your customers, you understand how you want your customers to go through your business, and how you want to stay in touch with them after they've purchased your product or your service. Whether it's recurring or if it's a one-off situation, you want your customer's journey to be a positive experience. There could always be another time where they might come back to you or refer to you for someone else.
When we're talking about marketing and making sure you understand your customers' journey, the other thing that I want you to map out is your central hub. Where are your customers going to find you? Your central hub can be either a website for your business, a landing page, your YouTube page, or your Instagram profile. No matter what, you've got to decide where your customers are going to find you. Pro-tip: You never want to rely on any social media platforms or any platforms that you don't own or control to be your central hub. Why is that? If any of those platforms change their terms or policies or they don't like whatever product or service it is that you're providing, you may lose out on being able to access your customer base. You don't want that. One of the things I highly encourage you to do regardless of where you make your central hub, is making sure that you're collecting emails and contact information for your customers and followers so that no matter what, you always have a way to be able to reach your customers about your products or your services. Take time to really think about not only your customer journey, not only your central hub, but how you plan on communicating with your customers. What is it that your customers want to see? What entices them to purchase things from you? What might keep them away from you? What things are important to them when they're deciding whether to make their next purchase?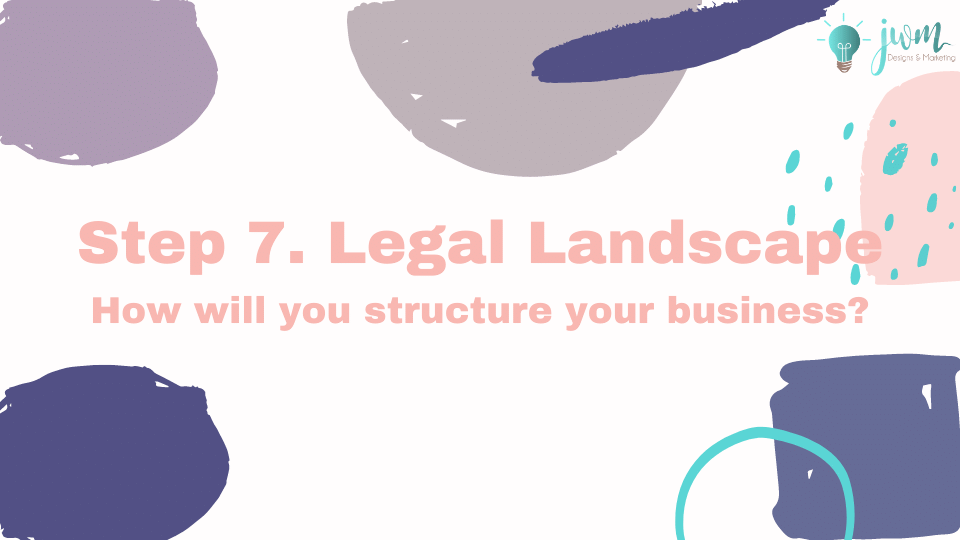 Step 7. Legal landscape. Your legal landscape is all about how your business going to be structured. You've got different options to choose from. The four main options are sole proprietorship, partnership, a limited liability company, or a corporation. I've two separate blog posts on different business structures and why I think LLCs are the best structure and you can find them on my blog. The bottom line is you've got to make a decision about how you want to structure your business. This decision is definitely something that you may want to involve an attorney with because they're going to be able to better advise you on what works best for your business. For example, if it's a heavy manufacturing type business that requires large equipment, and huge capital expenditures,  having a sole proprietorship is probably not going to be the best option for you. If you're going to go into business with someone, a partnership may be a good option, but an LLC may also be a good option depending on what nature of the service or product you provide. Again, I highly suggest that you speak with someone that's a legal professional in your state so that you can better understand your options so you know what works best and what doesn't.
Other things that you need to think about when you are building those foundational blocks for your business are your business address and email, and organizing your founding documentation like your articles of organization or your incorporation paperwork. You want to make sure that you have all of those items together and put in a safe place so that you can easily get to them when needed. I suggest that you have your documents scanned to your desktop or file storage system once they've been signed and filed. Another thing that you want to consider is whether your state has any specific requirements for your industry. Some states have specific rules and regulations that must be satisfied before you can operate a business. The state may have specific rules and licensing requirements that you need to make sure that you're aware of and that you have all the proper licenses. And you also need to make sure that if you're going to establish your business in a certain location, whether that location is zoned for your business or if you need special permission to operate out of that location. Additionally, you have to consider your tax implications, who you're going to bank with, payment portals, and other accounting and bookkeeping issues. These are all a part of those legal and foundational structures of a business. These are some of the fundamental elements that all businesses have to consider.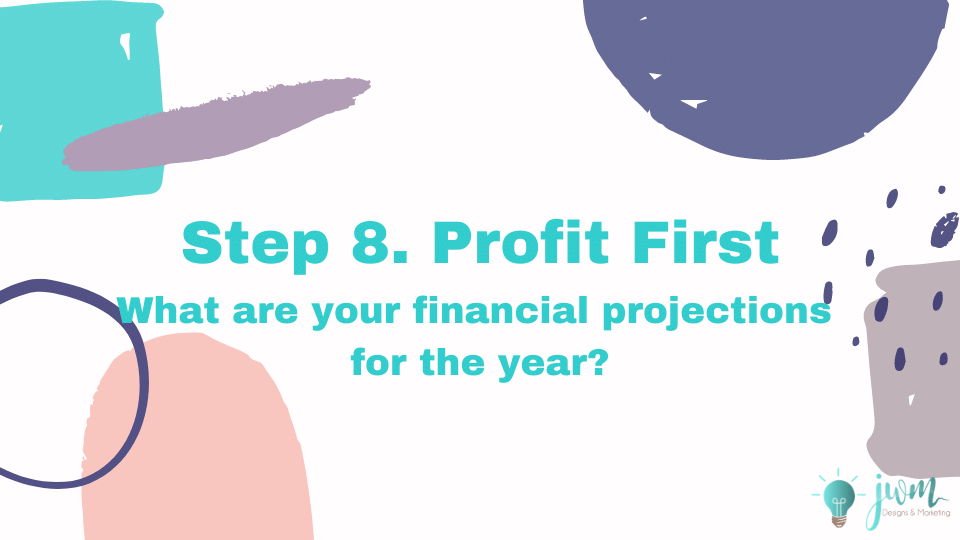 Step 8. Profit first. Going back to money matters, and now we're in profit first, these two steps go hand in hand because what they are all about is making sure you have a plan for your money. How much revenue do you need to generate to cover the expenses that you have in your personal life? I've seen too often where people start a business and they spend so much money on supplies and getting the business started that they never really think about what it will take to make a profit. They don't understand the term profit margin, and so what ends up happening is that it costs more to do business than it does to not do anything at all. I encourage all of you going through the process of deciding your pricing structure, have a specific number in mind that you need to reach in order for you to be comfortable. Then figure out how you can grow your business to achieve that amount, or beyond it to have that extra cushion. For some of you, maybe you started your business because you going to use this business as a way for you to pay off extra consumer debt. Or maybe your business is your lifelong dream that you plan to establish as a legacy for your family. You're the only one that knows what you want your business to do, but you've got to start thinking about it and planning for the future.
If you look through the workbook, I explain how to walk through each section, and to compare what you need now to survive, what your goals are, and the difference between them so that you can have articulable goals to reach. You want to make sure that you are able to define what success in your business actually look like. Profit first actually two pages because it is so important and I did not want you to miss any information. You're going to notice that I ask you do define what your financial goals are for your business and think about how you want your lifestyle to be 18 to 24 months from this point. You will need to know your current household obligations and estimate what you expect them to be at some point in the future. I want you to make sure you go through this very carefully. I encourage you to create spreadsheets or do whatever you need to in order for you to be able to have a better idea as to where it is you want to go and how you can do it by the numbers.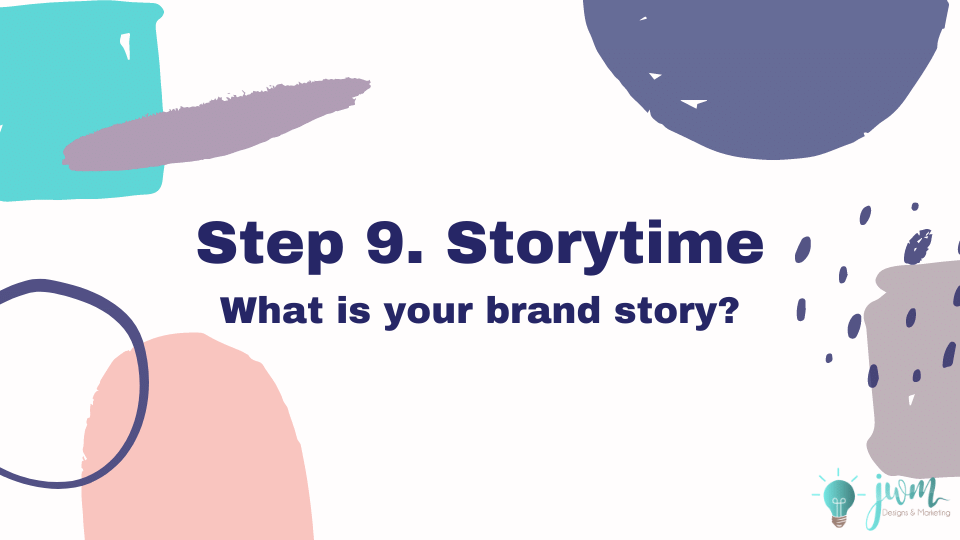 Step 9. Your Brand Story. This step is the fun part. This is where you can pick things like colors and logos and all those fun and creative branding elements. I set up this step for you to include those basic brand elements you will need. You can always add more or less. I think having a brand storyboard is helpful to any business. Key takeaways to remember is when you're hiring someone to create a logo, make sure that they give you the creative rights to use that logo however you want and that you become the full owner of it. You should have them sign a work for hire agreement or have them sign a release or assignment agreement. Remember, with copyright and trademark law, ownership rights are very important. I have a whole course on IP for Business owners. Aside from my course, I want you to make sure you own the rights to all of the branding materials for your business.  Going back to logos, oftentimes, not only do businesses have a main logo, but they might also have a secondary logo which could be a nickname, a word, or some sort of symbol or favicon. You also want to create a color palette for your branding. I left space for five colors but it doesn't have to be five. It could be seven. It could be three. I put five because that's just an easy number. I suggest you select the main color, then a color that pops for accent purposes, and then three complementary colors. When it comes to picking colors, it is all about the tone and mood you want to set. There are entire theories about what colors you should choose, the mood that different colors bring, and what people see and feel when it comes to color. I would definitely make sure you do some research on that topic. Don't just pick colors because they're cute. You want to make sure you pick colors that actually go with your brand and that attracts your ideal customers. 
In regards to typography, some people like sans serif, some people like serif fonts, and some people like decorative fonts or calligraphy. You have to make that decision in part on your brand image but I would suggest that you make sure whatever you pick, you don't pick just because it's cute. People need to be able to read your copy in different mediums and some are easier to read than others. My rule of thumb is one serif and one sans serif font is always good. You can always add decorative typography at some point to your branding at a later time to spruce things up. But I would honestly stick with the sans or the sans serif for most things. Other things you want to think about too, are pictures, patterns, and textures that also reflect your brand or your business. I encourage you to take this step and make it your own. Use it as a starting point. Ultimately, I hope that you're able to have fun with this step because while owning a business is a lot of work, there's some fun stuff that goes along with it. I want to make sure that you are having fun.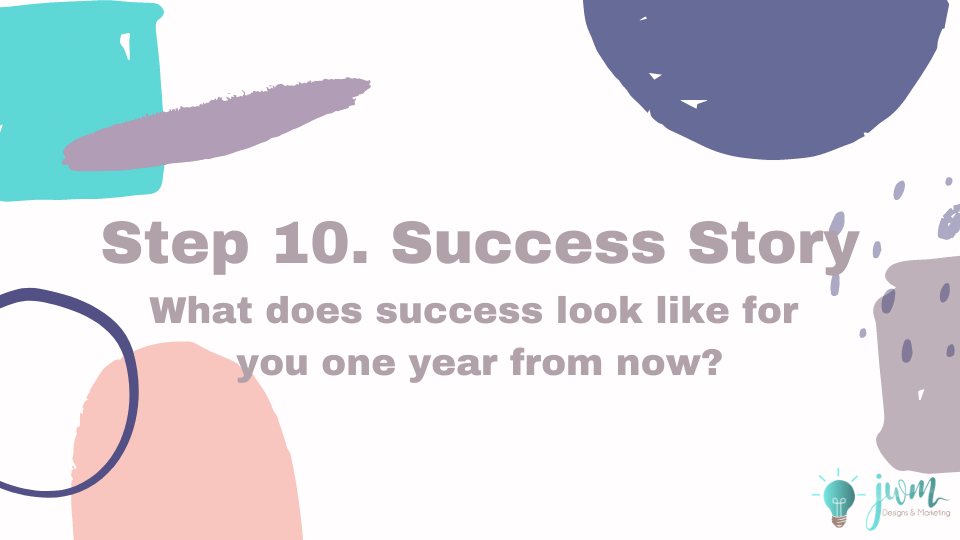 Step 10. Storytime. This step is also a very important part of the process because this is where you need to define your success story. Success does not look the same to everyone. For some people, success may be having a six-figure income. For other people, success may be having the ability to work from anywhere in the world. For you, success might be having the ability to just say no to projects and only take on the projects that mean something to you. Whatever success means, only you can define that for yourself. The goal of this step is to help you imagine yourself a year from now and where you want your business will be. This step helps you realize what all planning is working towards. What are you trying to achieve in your business? The answer to this question must be clear to you so that when you face those difficult times in your business like where you've got expenses you weren't expecting, or a customer treats you wrong, refuses to pay you or asks for a refund, or you have to deal with the post office not delivering your packages on time, or whatever it is, you need to have something in your mind, in your heart that you can grab on to when times get difficult. You need a reminder of what you are working towards. That's why you must define what success means to you.
Do I really need a business plan? Some of you might be thinking that a business plan is not necessary, especially if you've already started your business. I completely understand that. But here's why I think that you should definitely consider taking the time and going through in your business. You just never know when things are going to change. Did anybody expect 2020 to go as it did? You probably started off the year thinking it was going to go in one direction and 2020 veered into a completely different direction. When you have a plan for your business, you can then create contingencies and pivot your business the moment you see that things are changing in your industry. Even if the change is something you cannot control, you can review your plan and revise it to accommodate whatever is happening in the world around you. Not having a plan, not having an idea of where you are and where you're going in your business when things get thrown out of whack like they did last year, you won't have a road map to climb your way out of it. For some businesses, they weren't able to make that pivot during 2020. Now that we know what can happen in a global pandemic, having a plan to deal with potential lockdowns is key for survival. I strongly, strongly urge you all to have a plan for your business. Use this one as a starting point and build from there.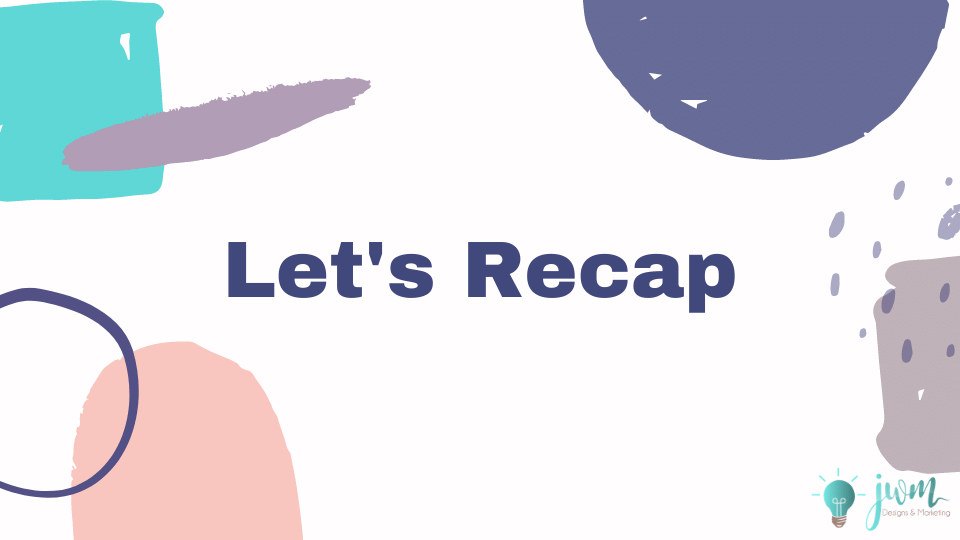 Let's recap. In this blog post, I walked through my 10-step business plan workbook. We explained the 10-step plan for your business and how to craft a business plan that not only helps you grow but also helps you to be able to see the progress that you're making throughout the year. I encourage you to make sure that you review the plan throughout the year so that you shift gears when needed or ensure that you are headed in the right direction. I definitely encourage you to make sure that you go through the steps.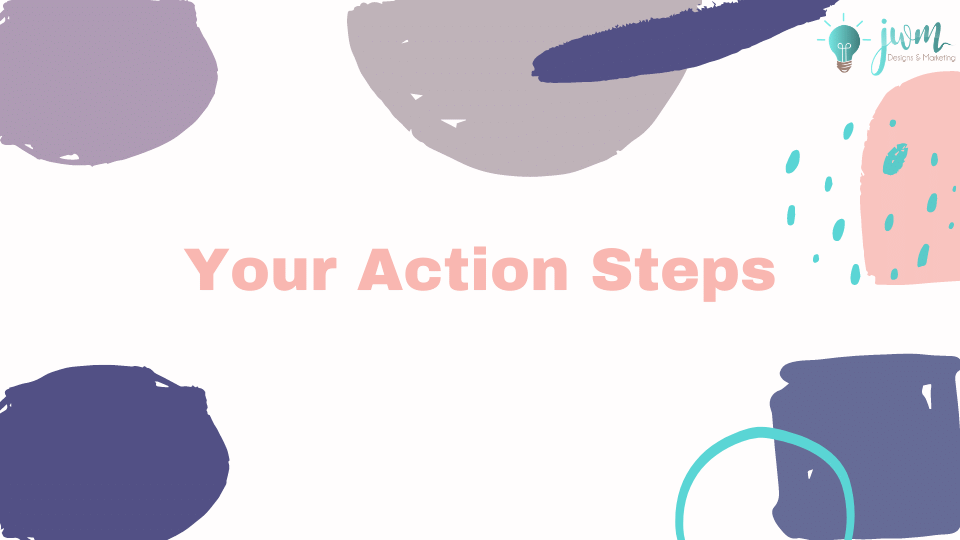 Your action steps for this blog post are to download and print out, yes print out the 10-Step Business Plan Workbook and start working through it. I encourage you to write your responses in a notebook or on a notepad because it may not all fit in the space provided in the workbook.  No matter what, just start working on your plan, answer those questions, think about those topics, and then implement, implement, implement. If you've got any questions or comments, please leave them in the comment area below. I love hearing from you. Also, don't forget to like and subscribe to my YouTube channel so that you can receive updates on any of the information or the tips or things that I post there.  Also, don't forget that you can find me on Facebook, Instagram, and LinkedIn if you've got any questions or you just want to reach out, feel free to go ahead and do that. I am so excited for 2021 and have so many awesome things are happening for me in my business. I hope that amazing things are happening for you in your business. Feel free to share your wins with me. Until I see you in the next post, keep building y'all.